HIT-CF: Personalised Treatment for Cystic Fibrosis Patients with Ultra-rare CFTR Mutations
GA no: 755021
Start date: 1 January 2018
Duration: 60 months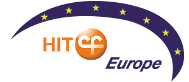 Aim:
The aim is to develop 'personalized treatments' for Cystic Fibrosis (CF) patients with uncommon genetic profiles throughout Europe. These patients with extremely rare gene mutations can otherwise never get access to possibly life-saving treatment. Once this concept has been proven, the methodology can extend to all patients with CF and other rare genetic diseases, so that HIT-CF will impact the entire field of orphan diseases.
Approach:
Firstly, stem cells from the patients' own intestine will be grown into "mini guts" (termed organoids) by the foundation Hubrecht Organoid Technology and distributed to laboratories in the Netherlands (Utrecht), Belgium (Leuven) and Portugal (Lisboa). This requires taking a few millimeters of tissue via a tiny biopsy, a painless procedure. CF drug candidates from Galapagos, Flatley Discovery Lab and possibly other companies will be tested in these organoids to check for their efficacy in the tissue of the individual patient.
Secondly, based on the effects in organoids, selected patients will be invited to participate in drug trials (organized within one of 43 CF-centers of the ECFS Clinical Trials Network and assisted by Julius Clinical) to evaluate the real life benefit of these compounds for these patients. HIT-CF aims to enable access to the most relevant drugs in development, and each trial group will test a drug candidate from one of the pharmaceutical consortium partners.


Consortium members:
Universitair Medisch Centrum Utrecht
European Cystic Fibrosis Society (ECFS)
Patergrus bvba
Stichting Hubrecht Organoid Technology (HUB)
Cystic Fibrosis Europe EV
BioISI- Biosystems & Integrative Science Institute, Faculty of Sciences, University of Lisboa
Katholieke Universiteit Leuven
Julius Clinical Research BV
Eloxx Pharmaceuticals
Proteostasis Therapeutics
Program leader:
Prof. C.K. van der Ent, UMC Utrecht (NL)
Website:
News:
​​​​​​​Newsletter March2020
Phase 1 of the breakthrough HIT-CF project ended with the enrolment of 502 people with ultrarare forms of cystic fibrosis
This project has received funding from the European Union's Horizon 2020 research and innovation programme under grant agreement no 755021