An ECFS-CTN webinar series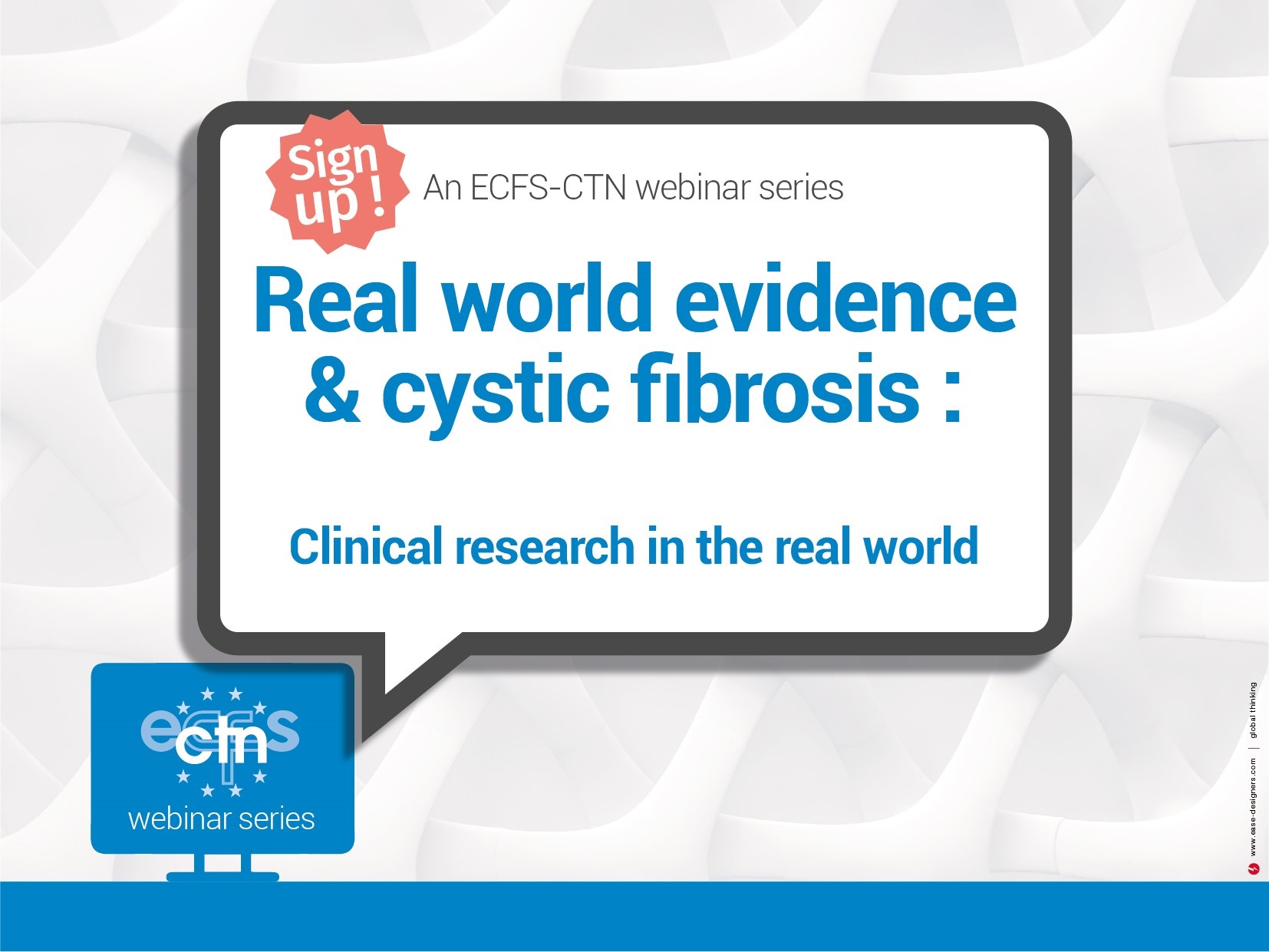 With the arrival of new therapies in clinic, real world evidence (RWE) trials are becoming more common in CF. Meanwhile regulatory and HTA requirements are evolving, and often reference CF therapies in their case studies.

ECFS-CTN invites you to join us for a webinar series to learn more about RWE in cystic fibrosis, how it is synthesised and assessed, and how we can all work together efficiently to bring new medicines to people with cystic fibrosis as quickly as possible. We bring together speakers from across the spectrum of stakeholders, from patients, to ECFS projects, industry, other rare diseases, EMA and reimbursement agencies.

The webinars are open to anybody with an interest in RWE including clinicians, research coordinators, academics, patient organisation representatives and industry.
We hope you can join us!
---
Webinar 1:
Introduction to RWE, the ECFSPR and the patient perspective
Wednesday 6th October 2021, 1230-1400 CEST
Welcome
Damian Downey, ECFS-CTN director
Introduction to RWE
Nicholas Simmonds, Royal Brompton Hospital, London
CF Europe and the patient perspective
Claire Francis and Audrey Chansard, CF Europe
ECFS Patient Registry and RWE
Lutz Naehrlich, ECFS Patient Registry
Discussion
Webinar 2:
Real "real world" studies in CF and beyond
Wednesday 13th October 2021, 1230-1400 CEST
Welcome
Damian Downey, ECFS-CTN director
The sponsor perspective of performing RWE trials in CF
Nataliya Volkova, Vertex Pharmaceuticals
RECOVER – real world effects of novel CFTR modulators
Paul Mc Nally, Royal College of Surgeons in Ireland
Using the French Health Databases and French CF registry to define health care resource use and costs
Isabelle Durieu, Lyon University Hospital
Project HERCULES: experience from Duchenne Muscular Dystrophy
Josie Godfrey, Project Hercules
Discussion
Webinar 3:
The regulatory and reimbursement perspective
Wednesday 20th October 2021, 1230-1400 CEST
Welcome
Damian Downey, ECFS-CTN director
Opportunities and challenges of RWE to support regulatory decision-making
Carla Jonker, Data Analytics and Methods Task Force, EMA
The role of RWE in CF
Irmgard Eichler, Medical University of Vienna
Using RWE in health technology assessment
Niklas Hedberg, EUnetHTA and Chief
Pharmacist TLV, Stockholm
Discussion