Page updated 27 October 2017
The Registry
The ECFS Patient Registry (ECFSPR) is a common platform for data collection on CF patients in Europe with the following purposes:
a. to measure, survey and compare aspects of cystic fibrosis and its treatment in the participating countries, thereby encouraging new standards of dealing with the disease.
b. to provide data for epidemiological research.
c. to identify special patient groups suitable for multi-centre trials.
How can the data be sent to the registry?
The ECFSPR collects the data through two methods: the use of spreadsheets converted to XML-files and the use of a specific data-entry programme. If you already have an established registry/database in your country/centre, you may wish to send the database without the need to re-enter data. In this case, you can upload the spreadsheet as an XML-file using the specifications we will provide you, containing only the information that is compatible with the variables that the registry collects. The complete list of variables collected and their coding is downloadable from the section "what are the variables collected".
If you don't have an established registry/database in your country/centre, you can use the data-entry software developed for the registry. The software will be accessible from the web, and each authorised operator will be able to enter the data for their country/centre. A system will ensure data protection through the encryption of data identifying the patient.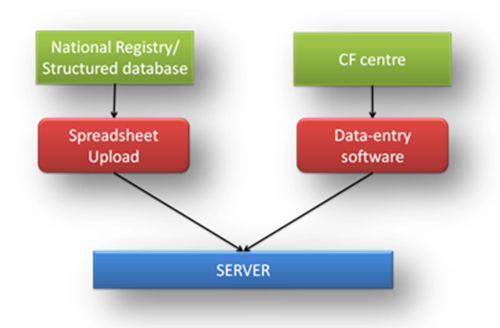 Where will the data be stored?
At the University of Milan, ISezione di Statistica Medica e Biometria "G.A.Maccacaro". A server is located in secure premises, where access is allowed to authorized personnel only. Data storage is in agreement with Danish, Italian and EU data protection legislation and is approved by the Danish Data Protection Agency.

Will there be assistance if needed?
Help-desk service will be provided during office hours. A trained operator will answer questions relating to the data-entry process and will clarify criteria for selecting patients and information to be registered.
I heard that I need a code for my centre in order to be able to send the data. What is it about?
In order to ensure confidentiality of the data, if you wish to use the data-entry software, you need to be assigned a code before entering the data. This will guarantee that only you and authorized people will identify the data as coming from your centre. For further information about code allocation, you can contact Hanne Vebert Olesen (hanne.olesen@ecfregistry.eu (link sends e-mail)).