Gerd Döring Award 2022
The Gerd Döring Award is an initiative of the European Cystic Fibrosis Society and is given annually to honour an exceptional young European scientist in their early career. The Award includes a monetary donation of 5,000 euro to support research. This year, the Award is given to Alessandra Murabito (IT) in acknowledgement of her work.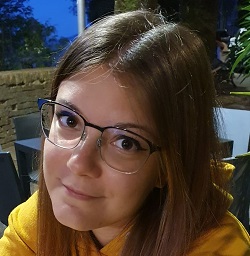 Alessandra Murabito
Biography
Alessandra Murabito is a Molecular Biotechnologist who obtained in 2022 her PhD in Biomedical Sciences and Oncology with a specialisation in Functional Genomics applied to Translational Research from the University of Torino, Italy. Since her bachelor's degree, her work has mostly been focused on the development of new therapeutic strategies to target respiratory diseases.
​​​​​​​
About the research presented at the 45th European CF Conference, Abstract WS18.02In her paper, A PI3Kγ mimetic peptide triggers CFTR gating, bronchodilation, and reduced inflammation in obstructive airway diseases (doi: 10.1126/scitranslmed.abl6328), she demonstrated that a cell-permeable peptide targeting PI3Kγ (PI3Kγ MP) is a promising medicinal product targeting several CF pathological features. The PI3Kγ MP, by inducing a localised and compartmentalised increase in cAMP, acts as a bronchodilator and anti-inflammatory drug, potentially replacing in clinical practice β2 adrenergic receptor agonists which are well known to have severe side effects. Moreover, the study reports that this peptide doubles the therapeutic efficacy of Kaftrio in rescuing the function of F508del-CFTR, indicating that the peptide might represent an avenue for reinstating F508del-CFTR activity close to 100% of that of the wild-type channel, a condition potentially matching that of healthy carriers of CF mutations, as well as to improve CFTR function in patients carrying rare mutations that will become eligible for Kaftrio in the future.
Young Investigator Award 2022
Following the recommendations of the Steering Committee during the abstracts review process, the ECFS wishes to commend the quality of the work presented in the abstracts of some young investigators under the age of 35 having applied for the award.
The Young Investigator Award includes a monetary grant of € 750, a free registration to the Conference, and a 2022 ECFS membership subscription. We wish to extend our congratulations to the following Young Investigators: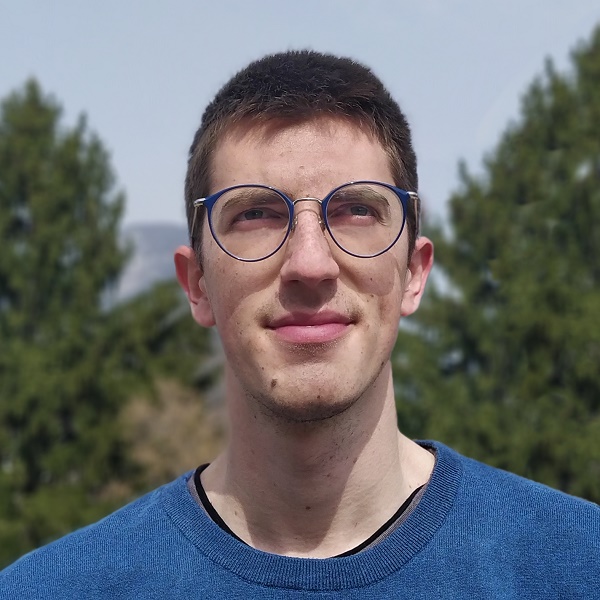 Simone Amistadi
Biography
Simone Amistadi is a graduate student working at the CIBIO Department, University of Trento, Italy, in the Laboratory of Molecular Virology headed by Anna Cereseto. He obtained his Master of Science in Cellular and Molecular Biotechnology at the University of Trento in 2020, with a thesis entitled "Precise CRISPR-based genome editing to correct cystic fibrosis mutations". He is continuing his research with the aim of developing novel gene-editing approaches, including the most recent prime- and base-editors, for the treatment of cystic fibrosis.
About the research presented at the 45th European CF Conference, abstract number WS16.02:​​​​​​​
Base editing strategy to repair the CFTR 2789+5G>A splicing mutation
The 2789+5G>A mutation is among the fifteen most frequent defects causing cystic fibrosis (CF), identified in almost 1% of CF patients (CFTR2 database). This mutation causes an aberrant splicing which determines the production of a non-functional CFTR protein. In this work, they applied CRISPR adenine base editors to precisely correct the 2789+5G>A mutation.
The most effective base editing strategy was initially set up using a minigene model mimicking the splicing defect generated by the mutation. The sgRNA showing the highest editing efficiency and splicing correction was then validated in CF clinically-relevant models, such as intestinal organoids and primary bronchial epithelial cells. In these models, derived from compound heterozygous patients for the 2789+5G>A mutation, the research team obtained up to 15% A-to-G base correction. The editing correlated with the restoration of correct splicing and functional recovery of the CFTR channel measured as organoids area and short-circuit current experiments.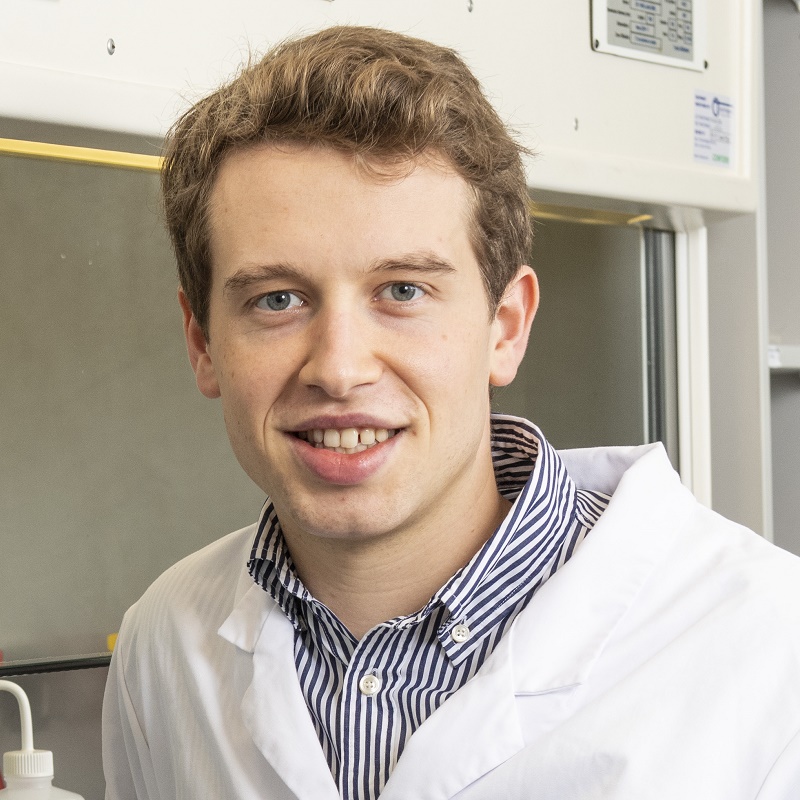 Mattijs Bulcaen
Biography
Mattijs Bulcaen is a 24-year-old Biochemist trained at KU Leuven, Belgium. During his master´s programme, he combined an R&D company internship with leading a student competition team (Sensus) and graduated in 2020 summa cum laude with congratulations from the exam committee, for which he received the Best Master Student award. His journey as a CF researcher started around the same time as his master thesis in the group of Professor Carlon on gene editing strategies for drug refractory CFTR mutations. Drawn by the biochemical nature of this research and propelled forward by the possible implications for CF patients, he is very eager to continue this exciting research, now as PhD student.
About the research presented at the 45th European CF Conference, abstract number WS16.01:
Correction of the drug-refractory CFTR mutation L227R by prime editing
Gene therapy for CF has been pursued since the early 90s and focused on a gene addition approach, which adds CFTR cDNA to restore CFTR function. Gene correction, on the other hand, allows the restoration of mutations in patient's chromosomes, thereby preserving endogenous gene expression and regulation and possibly providing a permanent cure.
They hypothesised that prime editing (PE) could permanently correct drug-refractory CF-causing mutations, such as L227R (c.680 T>G). Using several PE guide RNA designs, they were able to achieve 19 ± 2,6 % (mean ± SEM) genetic correction in HEK293T overexpressing the L227R CFTR mutant cDNA. DNA correction was next verified at protein level via detection of restored CFTR glycosylation by Western blot, plasma membrane localisation by flow cytometry and ion channel function by halide sensitive YFP quenching. To validate our approach in a more translational model, they delivered PE, together with optimised guides into patient-derived intestinal organoids via lentiviral vectors and measured functional recovery via forskolin-induced swelling, indicating PE-mediated correction of the endogenous CFTR gene.
Lisa Rodenburg
Biography
Lisa Rodenburg first pursued a degree in biomedical sciences, then later chose to continue her studies at medical school, where she eventually acquired her medical degree. During her studies, she developed an interest for translational research, and her aim is to translate science from the laboratory to patients. She started her PhD studies in 2019 in the group of Jeffrey Beekman and Kors van der Ent, where they use patient-derived organoids to study cystic fibrosis.
About the research presented at the 45th European CF Conference, abstract number WS16.05:
​​​​​​​Identification of drugs activating CFTR-independent fluid secretion in nasal organoids based on a high-content screening assay
Her research focuses on the use of patient-derived nasal cells to study respiratory diseases in vitro. They have collected nasal cells of approximately 150 people with cystic fibrosis (CF) in their biobank, and they developed a nasal organoid swelling assay to study epithelial fluid secretion. For this project, their aim was to identify compounds that activate alternative ion channels or transporters. These compounds might restore the epithelial fluid balance in people with CF, independent of their CFTR mutation type. They set up a high-content screening assay in nasal organoids and screened an FDA-approved drug library to identify drugs activating non-CFTR chloride channels. This resulted in 13 hit compounds which they selected for further mode of action studies. To investigate via which mechanism these hit compounds induce organoid swelling, they created knockouts of specific ion channels or transporters in nasal cells using CRISPR-Cas9. Future experiments with these knockout cells will reveal the role of these targets in nasal organoid swelling.
Best Poster Awards 2022
Cell biology/Physiology – New Therapies/Clinical Trials
Yifat Oren, Jerusalem, IL
P. 28 - Antisense oligonucleotide splicing modulation as a novel cystic fibrosis therapeutic approach for the W1282X nonsense mutation

Megan Hadfield, Leeds, UK
P.65 - Cervical cancer screening in women with CF: Should we do more?

Saartje Uyttebroek, Leuven, BE
P.106 - Upper airway disease in adults with cystic fibrosis: a cross-sectional study

Signe Lolle, Copenhagen, DK
ePS3.03 - Using patient derived airway models to study Pseudomonas aeruginosa colonization and infection

Gastroenterology/Endocrinology/Metabolic complications/Liver disease
Grace Lim, Nottingham, UK
P.170 - An assessment of terminal ileum morphology, using magnetic resonance imaging, in people with cystic fibrosis

Silvia Rigon, Verona, IT
P.159 - Modifications of anthropometric parameters and body composition after Kaftrio® in a group of adolescents and young adults

Pauline Peftoulidou, Thessaloniki GR
ePS2.04 - Is tele-physiotherapy as effective as home-visit guided physiotherapy among children with CF?