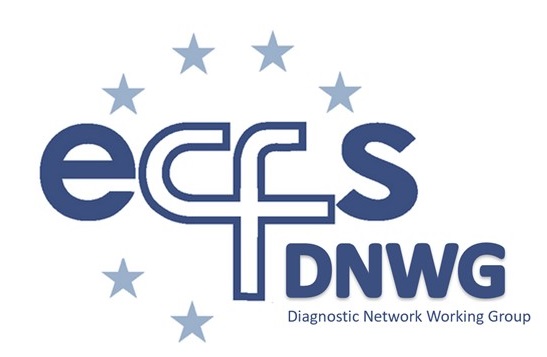 Latest News
DNWG Meeting at ECFS Conference
Save the date - Friday 9 June 2023- 12:30 - 14:30, Vienna, Austria.​​​​​​​
Programme
20th annual meeting: 9-11 February 2023 - Montpellier, France
Save the date, the next annual ECFS DNWG meeting will take place in Montpellier, France, on 9-11 February 2023
DNWG Meeting at ECFS Conference in Rotterdam
The report of the meeting is available here


DNWG Meeting at ECFS Conference
Friday 11 June - 12:30 - 14:30 - Digital
Free Registration Register here
Annual meeting 29-30 April 2021- Fully Digital
Although we would prefer an in person meeting, we have decided to have our annual DNWG meeting in 2021 virtually, as Covid is still a huge problem worldwide. The annual virtual DNWG-meeting will be held on the 29th and 30th April 2021.
The in-person meeting in Montpellier will be postponed to 2022 (10-12 Feb2022).
Annual Meeting 2022 - Montpellier - Save the date


Announcement meeting in September
Due to the COVID-19 situation, the annual DNWG session at the ECFS conference could unfortunately not take place in Lyon in June 2020. However, we are happy to announce that a virtual DNWG meeting will be held on 23rd September (11-13 h). During this online session active DNWG members and external speakers will present their work within the diagnostic field. Ongoing and future DNWG projects will be highlighted.
ECFS DNWG Sweat test Training Workshop
"Practical aspects for improvement of CF diagnosis in Europe"
In the tradition of the ECFS DNWG NPD and ICM hands-on workshops in Berlin 2014, we have organized a successful ECFS DNWG sweat test hands-on workshop at the ECFC in Belgrade 2018 (supported by EliTech) which received very good feedback from the participants.The workshop addressed the important issues raised within the previous ECFS DNWG sweat test survey (Cirilli N et al. JCF 2017) and was well in line with our recent educational activities to improve sweat test performance in Europe. Follow-up ECFS DNWG workshops have already been planned also on national levels.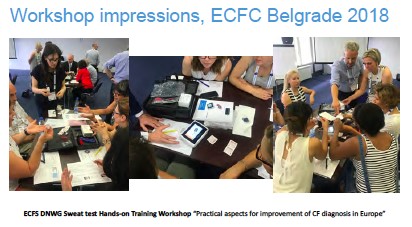 ECFS Education
With our educational online materials we are already contributing to the new ECFS Education project. These will be further expanded to different diagnostic tools as a next step.
---