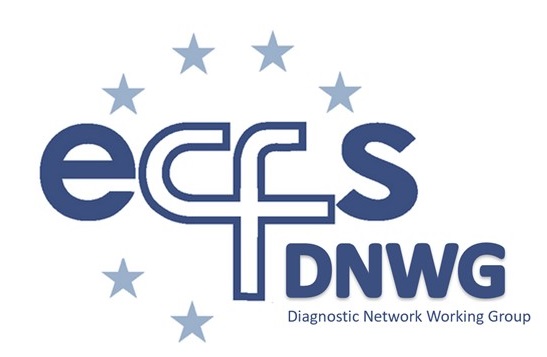 2022
2021
DNWG Meeting at ECFS Conference
Friday 11 June - 12:30 - 14:30 - Digital
Annual meeting 29-30 April 2021- Fully Digital
Although we would prefer an in person meeting, we have decided to have our annual DNWG meeting in 2021 virtually, as Covid is still a huge problem worldwide. The annual virtual DNWG-meeting will be held on the 29th and 30th April 2021.


Announcement meeting in September
Due to the COVID-19 situation, the annual DNWG session at the ECFS conference could unfortunately not take place in Lyon in June 2020. However, we are happy to announce that a virtual DNWG meeting will be held on 23rd September (11-13 h). During this online session active DNWG members and external speakers will present their work within the diagnostic field. Ongoing and future DNWG projects will be highlighted.
17th Annual Meeting
6–8 February 2020 - Utrecht, The Netherlands
Meeting Report​​​​​​​
---
Conference Meeting at ECFS Conference
5 June 2020 – Lyon, France
2019
Conference Meeting at ECFS Conference
7th June 2019 – Liverpool, UK
---
16th Annual Meeting
14th – 16th February 2019 - Tunis, Tunisia
​​​​​​​Programme
2018
Conference Meeting at ECFS Conference & Sweat test Training Workshop
8th June 2018 – Belgrade, Serbia
Programme
2017
Conference Meeting at ECFS Conference
10th June 2016 – Basel, Switzerland
---
2015
Conference Meeting at ECFS Conference
12th June 2015 – Brussels, Belgium
---
2014
Conference Meeting at ECFS Conference
13th June 2014 – Gothenburg, Sweden
---
11th Annual Meeting & NPD/ICM Training Workshops
13th – 15th February 2014 – Berlin, Germany
2013
Conference Meeting at ECFS Conference
14th June 2013 – Lisbon, Portugal
---
2012
Conference Meeting at ECFS Conference
8th June 2012 – Dublin, Ireland
Programme [PDF]
9th Annual Meeting
10th – 11th February 2012 – Verona, Italy
2011
Conference Meeting at ECFS Conference
10th June 2011 – Hamburg, Germany
Programme [PDF]
---
8th Annual Meeting
11th – 12th February 2011 – Stockholm, Sweden
2010
ConConference Meeting at ECFS Conference
18th June 2010 – Valencia, Spain
---
7th Annual Meeting & NPD Training Workshop
12th – 13th February 2010 – Paris, France
Programme [PDF], Meeting Report
2009
Conference Meeting at ECFS Conference
10th June 2009 – Brest, France
---
6th Annual Meeting
19th – 21th February 2009 – Liverpool, UK
Programme , Meeting Report
2008
Conference Meeting at ECFS Conference
11th June 2008 – Prague, Czech Republic
---
5th Annual Meeting & NPD Training Workshop
15th – 16th February 2008 – Hannover, Germany
Programme [PDF], Meeting Report
2007
Conference Meeting at ECFS Conference
15th June 2007 – Belek, Turkey
---
4th Annual Meeting
9th – 10th February 2007 – Leuven, Belgium
2006
Conference Meeting at ECFS Conference
16th June 2006 – Copenhagen, Denmark
---
3rd Annual Meeting
February 2006 – Rotterdam, Netherlands
2005
Conference Meeting at ECFS Conference
24th June 2005 – Crete, Greece
---
2nd Annual Meeting
February 2005 – Rotterdam, Netherlands
2005
1st Annual Meeting
February 2004 – Rotterdam, Netherlands