The registration booking platform is open!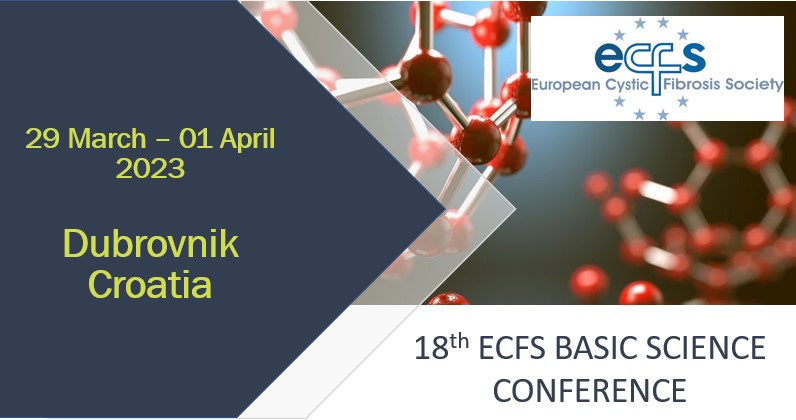 Conference Registration Booking
The ECFS Basic Science Conference has seen an increasing number of participants over the years and to keep the interactive spirit of the conference it has been decided to limit attendance number at the Basic Science conference. Attendance to the conference will therefore be competitive and priority will be given to presenting authors.
Delegates do not need to contact the venue Hotel for their accommodation. Rooms have been pre-booked.
The conference programme is currently anticipated to start in the afternoon of Wednesday 29 March and conclude with the conference social function on Saturday 01 April 2023.
Registration Confirmation
The ECFS office will send you an invoice with instructions for payment within two working days after completion of your registration booking. Your registration will be automatically confirmed upon receipt of your payment.


Until 01 March 2023 (price in EUR)
From 02 March 2023 (prices in EUR)

Accommodation in SINGLE room

=double room for SINGLE use






ECFS Member

1200

1300

Non-member

1300

1400

Company Registrant*

3000

3500

Accommodation in a shared TWIN room






ECFS member

1100

1200

Non-member

1200

1300

Young delegates - Up to 35 years **

400

450

Accompanying Person(s) ***

600

700


* The ECFS member rate is not available for company delegates. Accommodation in double room for single use.
** The "Young delegates" registration type is available for young registrants up to 35 years sharing a hotel room with another participant. We kindly request to include the name of the delegates sharing a room in the registration booking form. For the Young Registrants wishing a single room, the ECFS-Member/Non-Member Registration fee will apply.
*** Accompanying Persons: sharing a room with a conference delegate and not participating in the Scientific Programme. The registration fee includes the airport shuttle transfers, breakfasts and dinners (not lunches), and the social function on 01 April 2023.
For any question related to the registration, please contact david.debisschop@ecfs.eu (link sends e-mail)
Abstract submitters must register by 01 March 2023 for their abstracts to be considered for inclusion in the programme. Registration payment not received by this date may result in the abstract being withdrawn.
Registration payments must be received by 24 March 2023 at the latest or registration will be cancelled.
For young researchers, there are a limited number of travel grants, and free registration opportunities. Further information available here.
Contact Details:
European Cystic Fibrosis Society
Kastanieparken 7
7470 Karup J
Denmark