Recent Newsletters
Newsletter 2015
In this newsletter you will find the report from the ECFS Neonatal Screening Working Group Annual Meeting in June 2015.

At this years meeting we had the following presentations:
A Progress Report from Belgium, Marijke Proesmans, University of Leuven, Belgium
Newborn screening for CF at National Level in Spain, Silvia Gartner, Hospital Universitari Vall d´Hebron, Barcelona, Spain
Early experience from the Turkish Newborn Screening Programme, Refika Ersu and Bülent Karadağ, Marmara University, Istanbul, Turkey
Moving towards a national newborn screening programme for CF in Germany, Olaf Sommerburg, University Children's Hospital III, Heidelberg, Germany
CFSPID from the Perspective of an Adult CF physician, Nicholas Simmonds, Royal Brompton Hospital, London, UK
Plans to develop a coordinated international approach to diagnostic designation, Patrick Sosnay, John Hopkins, Baltimore, USA (on behalf of Phil Farrell)
Impact of carrier identification in families, Danya Vears, University of Melbourne, Melbourne, Australia
Advances in molecular genetics; Treasure Chest or Pandora's Box, Milan Macek, Charles University Prague – 2. Faculty of Medicine and University Hospital in Motol, Prague, Czech Republic

Newsletter February 2015
In this newsletter we report from the Diagnostic Network Working Group Meeting in Warsaw Poland, the CF Screen Positive, Inconclusive Diagnosis (CFSPID) Paper and the CF EVE Application. For a copy of the paper please email v.winters@liv.ac.uk.
In this newsletter, we have reports from Poland and the Russian Federation on the national CF screening programmes in those countries.
We are very grateful to Dorota, Katarzyna and Mariusz from Poland and Nataliya and Victoria from Russia for these detailed reports. It is fascinating to see how each country has tackled the challenges of NBS in quite distinct ways and the impact this healthcare strategy has had on their countries. An objective of our working group is to critically evaluate protocol performance and reflect on which strategies provide best performance. We are hoping to complete analysis of data sent through to us early in the New Year and we thank all those who have taken the time to provide those data to us.
Report from the NSWG Annual Meeting 2013.
Left to right: laf Sommerburg, Richard Parad, Fiona Ulph, Kevin Southern, Veronika Krulisova, and Philip Farrell. To read the report, please click on the link to the left.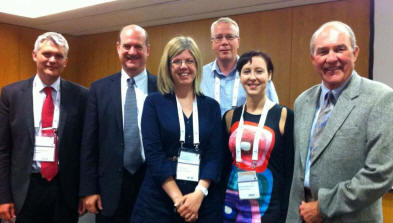 This newsletter outlines ECFS standards for the performance of newborn screening for CF, which are soon to be published. These standards were developed by the Core Group using Delphi methodology and will be part of a larger ECFS document that includes standards for a wide variety of CF care issues. To read the report, please click on the link to the left.